Creative Matters: 3 Questions to Ask When Creating 360 VR Ad Content
Creative Matters with Immersive 360 VR Ad Content
Digital advertising isn't as simple as slapping a picture of a product on a nice background and captioning it with the words, "Buy this product." Usually, the process of creating an ad is more detailed and more creative than that. You need to have the right imagery (one that matches the brand and grabs attention), the right messaging (text that resonates and calls for action without sounding too aggressive), the right offer and in today's culturally sensitive times you also need to make sure your ad isn't offensive (case in point Pepsi's recent Kendall Jenner ad fail).
If you're a marketer or advertiser you're probably rolling your eyes at this moment thinking, "Well, of course I know that." Well good! Because just like every other creative tool that has evolved out of technological advancements, when it comes to creating engaging and effective immersive 360VR ads you can't just rely on the technology, you need good creative too!
Since 360 VR advertising is so nascent, it's easy to forget that the basic rules of advertising still apply. Just because you have a 360 video or image doesn't mean that you have a 360VR ad that is ready go. Yes, 360 and VR ad content is immersive and engaging, but if you don't know how to properly implement it, then you've just thrown its engagement and immersive properties out the window. Because if putting a 360 camera in the middle of an environment is what you consider as immersive 360 VR ad content, then you're doing it wrong.
Before I go on, let me give you an example of an excellent execution of immersive 360 VR ad content. This is a brand centric 360 VR video ad by StubHub. Coming in at approximately 6 minutes in length, it's much longer than your typical video ad but it serves as a good example for some of the tricks to brand storytelling with this new medium.
It has a storyline and uses multiple environments (concerts, an office, a photoshoot) that serve as interesting things to look at. For example, in the office scene, it starts off looking at the main female character as she's talking to people in her team. You see her look at someone behind you (and you hear a door open) and you turn around and see another team member coming in her office to tell her something. That's pretty clever as they've added visual elements, aka visual cues, to the environment that make you want to turn around. And that's exactly how people should execute immersive 360 VR ad content.
So going back to advertising with 360VR content, creative matters. And with that, let me give you a few things to think about when producing and developing creative for your 360 VR ad.
1. How do I initially engage people to play with or view the 360 ad?
One of the strengths of immersive 360VR ads is their ability to trigger initial ad engagement, especially on mobile. That's partly due to the fact that 360VR ads respond to device movement. So if you're scrolling through a web page and your device has the slightest movement the content within the ad responds and moves. This functionality within an ad is still so novel that it serves as a good attention getting tool.
Another way to trigger ad engagement and one that we recommend to clients, is to take advantage of what we call "perpetual movement." The combination of HTML5 and 360 technology enables you to automatically pan the visuals of an ad around thereby catching the eye of a viewer – much like a video would but without the use of video.
Both of these features (ad responsiveness to device movement and autopanning) are so effective because they tap into the basic survival instincts of humans – if we see movement out of the corner of our eye, our immediate response is to look at this movement to quickly identify if it's a threat or not. As such, employing these tactics can trigger initial ad engagement. That said, you also need to support this with good creative and a bit more heavy handed things like using text, arrows and other visual cues to let the users know how they can interact with an ad that is unlike any they've seen before. You need to employ clever CTAs and leverage powerful imagery the same as you would with a traditional ad.
2. How do I sustain engagement?
Now that your immersive 360VR ad has grabbed the user's attention, the next thing you want them to do is explore and engage with your content – you want to sustain ad engagement. With a 360VR ad, you now have new opportunities by which to sustain ad engagement and immerse the audience. Obviously the longer you can do this the better.
Longer Engagement = More Brand Affinity
But how do you sustain engagement within a 360VR ad? Simple: you leverage this enlarged ad canvas by always making sure that there's something compelling to look at as you use it to tell a story. And a great way to execute on this is by taking advantage of visual cues because they encourage people to look around and explore your 360 VR ad content.
Going back to the StubHub example (if you still haven't watched it even after I gave you the link, you should!), there are two scenes that show the main characters' memories together. And the way they do this is by having pictures of the main characters appear throughout a black background, but the way the images appear is by having them circle around the viewer – prompting the user to turn around, move their device and follow the path of the pictures. In another scene, they do another black background with images appearing throughout, but this time, the main female character is running around looking at the images and thus, visually cueing the viewer to follow wherever she goes.
Those two examples are great executions of visual cues, but it doesn't even have to be that complex. You can even do simple visual cues such as signs or symbols telling viewers to "Look here!" or "Turn around!" You can even use other tools like hotspots (visible and invisible interactive spots that highlight things in 360 VR content) that provide more information about sections of the content. Another way is by "gamifying" a 360 image and using hotspots to create a "find and seek" game (like our Fantastic Beasts ad demo). These things encourage the viewer to look around the environment, sustain engagement and ultimately immerse the user in a branded experience.
So be sure that there's always something that compels people to look around and provide cues to help guide the user along alerting them that there's more to this ad than meets the eye. You can't forget that this medium is so new that many consumers don't even know they can interact with 360VR ads. Hence, you need to deliver creative that resonates and educates on how to interact with your ad.
3. Is what I want to show better off as a 360 video or a 360 image?
360 degree images can sometimes be just as compelling as 360 video if leveraged properly.This is especially effective if your main purpose is to just have people explore and look around without having a story element to it. What do I mean by that?
I can't tell you how many times I've seen a 360 video with little to no action. The video was literally shot just to showcase a certain location to users so that they could take in the scene. If that's the case, the same effect can be achieved with a 360 image. And yes, you can still add background music, sound effects, interactive hotspots, overlays and the like to make a 360 image even more immersive.
There are advantages to using compelling 360 images over video as well. First, because they aren't restricted by the length of the video, users can explore at their leisure, on their terms, without any time constraints. Second, because you're dealing with images instead of video the ad will load quicker and the user experience won't be as dependent on the integrity of the user's wifi or cellular connection. And finally, you'll save on production costs as it's less expensive to produce 360 images than video.
Basics of Advertising
In the end, it's important to remember that creating immersive 360 VR ad content uses the same basic rules of advertising. And just like in traditional advertising, creative matters! Therefore, before creating your next (or first) immersive 360VR ad, remember you can't just rely on the technology alone, you need to plan out the creative you'll use that will aid with initial engagement and then sustain that engagement so as to leverage the high engagement rates and brand recall that immersive 360 VR ads are proving to have.
360VR Ads The Ultimate Shopping Tool for Consumers
When it comes to traveling, I'm very picky about my hotel room. It's really what makes or breaks my vacation. So if I end up with a not so clean room or even a hotel that's super run down, I'm dying for my vacation to be over. Sounds a little bit dramatic, but it's true. That's why whenever my husband and I are planning a vacation, I read and analyze every review I can find of different hotels. I also pore over every picture of each hotel – including those provided by the hotel itself and those posted by people on review sites. It's a seriously time consuming task that's all an effort to piece together everything about the hotel that I can get my hands on just to get a complete view – a 360 degree view – of my desired destination.
Now, because of the ability to use new technology like 360 VR for travel marketing and advertising, consumers like me have a new tool at their disposal which can make shopping for everything from travel to cars easier and possibly even more fun! That's because 360 VR technology, when applied to today's digital display ads, enables brands to showcase more product, deliver more compelling brand storytelling messages and it facilitates product sampling and demos. No other ad technology or content platform offers this much immersion and engagement along with the opportunity to just explore products and brands more. Let's take my experience, as an example, to see how applying 360 VR for travel advertising can improve the consumer shopping experience. Take a look at the 360 VR ad below.
Notice that you start out at the hotel lobby. Now move your device or use your mouse to drag the image in the ad to reveal more of the lobby. In the upper right hand corner of the ad you see an icon to expand the ad and you select it. The ad goes full screen (can be viewed vertically or horizontally) and you explore more of the lobby. You can truly sense what it feels like to walk through the hotel's revolving front doors, you note the majestic beauty of the vaulted ceilings and grand chandeliers and you are taken in by the boundless luxury the hotel espouses to posses in their property descriptions.
As you explore, more hotspots start to appear encouraging you to book your stay and tour other parts of the hotel like the lounge, pool, and even one of the suites. Select "View Club Lounge" and you're transported to a 360 degree view of the Club Floor & Lounge area which is well suited for business travellers. For someone like me, the most important view will be that of a room so I'd select "View Suite" to get the complete picture of what a guest room looks like. I like what I see! Next I take a peek at the pool and I'm convinced – it's time to book my stay. All I have to do is select the "Book Your Stay" button and I'm then taken directly to a reservations page where I can book my trip. This is certainly much easier than having to pull together enough 2D pictures and reviews to get the true picture of whether or not this is a hotel that meets my standards!
Now imagine if we think bigger and leverage 360 VR in other ways than just as a traveling tool. Think of how 360 VR will change the way we shop for clothes or even buy groceries! And for bigger purchases like cars, apartments, or houses, 360 VR can help you narrow down your search by allowing you to virtually test drive a car or virtually tour an apartment or a house before deciding on your favorite choices. There's really no limit to what we can do with 360VR and it's exciting to think about the many opportunities and innovations this technology will bring.
With all this in mind, it's worth reminding advertisers and marketers that we're living in exciting times because there's so much we can do with 360 and VR when it comes to the realm of advertising. Never before have we had at our disposal an ad technology that was capable of immersing consumers at this level. So what are you waiting for? It's time you start leveraging 360 VR ads today!
P.S. Want to learn how to properly use 360 VR for travel? Download our ebook below!
The Do's and Don'ts of 360 VR Advertising
Co-Written by Laura Barton
If you're in advertising or marketing, you've probably already heard of virtual reality and its cousin, 360 content. You've also most certainly recognized the potential that these two technologies, particularly virtual reality, have when it comes to immersing consumers in a particular brand.
According to analysts, we still have about a few years before virtual reality will actually take off. And that's because according to their predictions, VR headset penetration won't hit critical mass until 2019 at the earliest. Because of this, there are quite a few advertisers and marketers who shy away from advertising in virtual reality. We're here to tell you though that you don't have to do that.
Even if virtual reality won't take off until about two years from now, we have another tool that we can leverage that is also very powerful. What is it? 360 VR ads – ads that can be placed in just about any ad space on the internet and in apps. This means that marketers and advertisers can leverage the power of VR today, without having to wait for headsets to reach critical mass. Also, because 360 and VR content can be placed in the digital ad spaces you see on the web or in apps every day and can be viewed on any device, any browser, and any platform – this means that 360VR ads have reach today!
Although advertising with 360VR ads is viewed positively and proving to be very effective, if not done right, it can, instead, be a negative experience for a person. That's why as brands take the next step to leverage 360VR, it's imperative to know how to use it properly and correctly – maximizing the full benefits of this technology. Yes, there's still much to learn about 360VR advertising, but as experts with a lot of 360 VR advertising experience under our belts, we've compiled these 360 VR advertising tips for you!
These 360 VR advertising tips contain the do's and don'ts of 360 VR advertising. We talk about good practices and bad practices – things that can make or break the 360 VR ad or even the content that you're creating. Also, if you're interested to know more about these 360 VR advertising tips, you can download our ebook on the "Do's and Don'ts of 360 VR Advertising for Travel." While this ebook is targetting those in the travel industry (as they are one of the earliest adopters of 360 VR technology), these 360 VR advertising tips apply to any industry.
360 Ads Perform Better than Traditional Display (Part 2)
Last week, we talked about how people enjoy and prefer 360 content over traditional display. Like we said, no surprise there as 360 video advertising and 360 virtual reality ads are very interesting and engaging. For this week's post, we're showing you more stats (as we promised), but this time we shift our focus over to performance and effectiveness and highlight how 360VR ads and 360 video ads perform better than traditional display. What makes this data particularly noteworthy is that they show a stark difference between the two mediums.
So how do 360 video ads perform compared to traditional video ads? 360 video ads have garnered more clicks, more engagement, more views, and even higher content and brand recall. This is exciting because these numbers support the fact that people really do prefer 360 content and enjoy engaging with it. Also, these numbers continue to underscore that brands can no longer ignore the effectiveness of 360 video advertising and 360 VR ads.
When you consider what we've discussed the past few weeks, it's hard to imagine what else could be holding brands back from leveraging this new vehicle for advertising. We've already shown how cost is no longer a barrier for 360 VR ads as you can create 360 VR ads with ordinary 2D assets. We've also talked about the different 360 VR myths & misconceptions to alleviate the concerns that people have. Finally, we discussed how 360VR advertising is the bridge to virtual reality advertising.
So if you know that people prefer 360 content, that the reach is there, that it's not as cost prohibitive as you think AND that 360 video ads perform better than their traditional counterparts, what are you waiting for? It's time to leverage 360 VR advertising & 360 video ads today!
P.S. Don't forget to check out the infographic and other articles you might be interested in below.
Download Infographic Here
More Articles You Might Be Interested In
360 Ads Are Better! (Part 1)
As someone who works in the 360/VR space, it's very encouraging to hear the statistics about 360 video advertising and how people like 360 ads better than traditional display ads. But why wouldn't they? After all, 360 videos and images are such engaging and interesting mediums for people and brands to share their stories. 360 video is proving to be an effective storytelling tool because it gives you the full picture – the full context, of what's going on around a scene. Also, because 360 content responds to device movement, 360 ads easily catch a viewer's eye – almost as if they demand attention. And if your company knows how to leverage 360 video advertising properly, your 360 video ads will encourage people to want to experience your ad again and again.
As more empirical evidence supporting the effectiveness of 360VR ads and 360 video advertising comes to light, it's only a matter of time before more and more brands and marketers at large start leveraging the power of 360 and VR in digital display ads today. Especially when consumers have gone on to say that they like it when brands use 360 and virtual reality because they get to have a glimpse of how to use a product before actually buying it.
But don't just take our word for it, below are some stats on what people think about 360 video advertising and 360 video in general. And be sure to check back next week for part 2, as we'll be releasing more stats on how 360 VR advertising performs better than its traditional counterparts.
See an example of a 360 video ad with this Clash of Clans video inside an Advrtas ad unit.
Download Infographic Here
More Articles You Might Be Interested In
360VR Ads: The Bridge to VR Ads

In a recent survey of US agency executives done by Vibrant Media, it was discovered that nearly 90% of agencies find virtual reality (VR) compelling as a digital marketing channel. But, despite this positive perception, most haven't purchased VR ads for their clients. Why? The primary obstacle: reach.
There's no denying that the reach for ads in VR isn't there yet. With less than 2 million VR systems in the market (Oculus Rift, Playstation VR, HTC Vive) it's hard for any marketer to achieve scale. When you include the volume of mobile VR headsets (Samsung Gear, Google Daydream, Cardboard) the numbers do get better. There's just shy of 100 million mobile VR headsets in the market globally – 88 mil of which are cardboard. However, of these, it's believed that a large chunk can be attributed to brands giving them away for promotional purposes. As such, their fate is similar to that of many other tchotchkes… they collect dust. And even though Google indicates there have been 160 million downloads of cardboard apps, many marketers and agencies question how many eyeballs they can truly reach with VR ads. So how can agencies and brands tap into the engaging and immersive power of virtual reality while the world waits for VR headset penetration to reach critical mass? The answer – 360 Virtual Reality ads.
What are 360VR Ads?
Think of it this way – virtually any of those ads you see in apps or on websites can be a 360VR ad. The big difference, of course, between most of the ads you see today and 360VR ads is that the creative of 360VR ads is comprised of 360 degree content. This content can be a 360 video or image or it can be a collection of videos and images that the user can access via interactive hotspots. It can also be a 360 degree environment made using the 2D assets many advertisers have today. 360VR ads can be display (mobile or desktop), video (instream or outstream) as well as native ad units. They can be just about any IAB compliant ad unit size too – billboard, skyscraper, medium rectangle, full page, half page,etc. 360VR ads can also easily convert to VR mode so those folks who do have a cardboard headset can fully immerse themselves if they desire.
More importantly, 360VR ads can be viewed on today's devices because there's no need for a VR headset. As long as you're working with a very advanced and technology adept 360 & VR ad tech vendor, 360VR ads can be viewed on virtually any smartphone (Android and iOS), tablet or desktop either in browser or in app. This is no easy feat – especially when you consider the many obstacles that Apple puts in the way, making 360 video almost impossible to watch on Safari and other mobile browsers. (I say "almost impossible" because some, like Advrtas, have overcome this challenge!). Consequently, with 360VR ads reach is no longer issue.
What are VR Ads?
VR ads, in contrast, are ads that are placed inside of VR games, apps and experiences. We like to call them "in-VR" ads because you see the ad when you're in VR. The user puts on a VR headset (Rift, Vive, PlaystationVR, Samsung GearVR, Google Daydream) and they are served ads before, during or after their VR experience. Some ads are more intrusive than others. For example, replicating the model that exists in mobile gaming, users can get more lives, power packs, move up a level etc. by watching an ad. Other ad placements are more organic consisting of brand messages or product placements that live in the background or environment of a game or experience. They too are engaging and highly immersive but given today's VR headset penetration, the reach simply isn't there.
Digital advertising is changing: virtual reality and augmented reality marketing strategies have matured to a position of true viability so that marketers can offer consumers far more entertaining, compelling and immersive ad campaigns that inspire personal affinities with brands.
Craig Gooding
360VR Ads are the Bridge to Tomorrow's Ads
360VR ads enable agencies and the brands they represent to tap into the new and compelling marketing channel of VR today! As such, 360VR ads are the bridge to VR ads. They help familiarize the market with 360 and VR content and create a thirst to experience and see more. Furthermore, 360VR ads are also proving to be much more effective than most of the digital ads in the market today. Brands are seeing higher engagement, longer view times, increased brand affinity, content recall, brand recall, dwell time, higher conversions etc.
Armed with the knowledge that 360VR ads are both effective and have reach, it's only a matter of time before we'll see more agencies and the brands they represent integrating these engaging ads into their digital marketing campaigns.
Want to learn more about the effectiveness of 360VR ads? Download this FREE 360VR case study.
Myths of 360 VR Advertising: Part II
As we mentioned last week, 360 VR advertising is an emerging marketing tool. Because of this, people who don't really know much about it have developed a few misconceptions that have been preventing them from taking advantage of this highly engaging and immersive form of digital advertising. This week, we continue this theme as we debunk 6 more myths in 360 VR Ad Misconceptions: Part 2.
360 VR Ad Misconception #1: They're too expensive.
Debunked: First, you don't even need a 360 video or even 360 degree images to create a 360VR degree ad. Truth is, if you have 2D images and videos you already have in hand key components to create a highly engaging, immersive 360 ad that also has VR mode (see the ad below that had 85% engagement on mobile). But if you do prefer to shoot some 360 content, it's not as costly as you might think. As a recent NYT article pointed out, while a branded virtual reality experience that plays on a console based VR system (i.e., HTC Vive, Playstation VR, Oculus Rift) can cost upwards of $500K, a 360 degree video (which can still be experienced in virtual reality) costs a fraction of this – anywhere from $10K to $100K.

360 VR Ad Misconception #2: They're too difficult to produce.
Debunked: 360VR ads can be created using your existing 2D or CGI assets as well as 360 imagery like photos or videos. When it comes to the latter, 360 camera technology and the software tools that support it have advanced tremendously just over the past 2 years alone and dropped in cost. The number of professionals who know how to use this equipment has also grown significantly. Odds are that wherever you are located, you'll be able to find the right folks to do 360 image and video capture. Finally, if you want to go it alone, consumer grade 360 cameras like the Ricoh Theta or Samsung Galaxy Gear 360 are affordable options with suggested retail prices below $300.
360 VR Ad Misconception #4: Your production pipeline isn't set up for it.
Debunked: 360 & VR content is premium content and as such 360VR ads should be treated as premium ads. Initial industry studies reveal 360VR ad units garner significantly higher levels of initial and sustained engagement, brand recall, content recall, longer view times & more. 360VR ads are powerful for branding initiatives and as such why would you want to risk these appearing on sites or near other content that isn't aligned with your brand? With the potential risks associated with programmatic (have you seen the press about big brands boycotting YouTube or fake news sites?), a premium 360VR ad deserves to be treated in kind and not as a cheap commodity that is served programmatically.
360 VR Ad Misconception #4: Your production pipeline isn't set up for it.
Debunked: This is an example of people making something more complex than it really is. This is likely due to the misperception that when people hear the term "360VR ads" they're thinking about ads that appear inside of VR experiences like those on the HTC Vive, Oculus Rift, Playstation VR or even the Samsung Gear. Now while we won't argue that in-VR ads can be extremely effective and compelling, the fact is that until VR headset penetration hits critical mass, advertisers can't achieve scale by exploring in-VR ads alone.
However, advertisers can achieve scale and reach consumers where they are today by running 360VR display or native ad units that can run on any browser, app, device, or platform. When it comes to these forms of 360VR ads, it's important to keep in mind that while 360VR is a new format it's not necessarily a different system. Publishing 360VR ads is essentially the same as publishing any form of rich media today using the same ad network and protocol. You create your ad, it gets integrated into 360VR ad technology (like Advrtas) so that your ad is viewable on any browser, device, app or platform and then a code snippet is produced. You use this code the same as you would the code for a standard rich media ad.
360 VR Ad Misconception #5: There are no standard performance metrics.
Debunked: 360VR ads deliver the metrics to which you're already accustomed plus a whole lot more. If you're looking for more consumer insights, 360VR ads inherently feature an entirely new set of data collection points. From heat maps that show where people focus their attention in a 360 ad experience to exactly how and for how long they engaged and basics that address viewability, 360VR ads offer a wealth of information that hasn't been available till now.
360 VR Ad Misconception #6: There isn't enough effectiveness research.
Debunked: While 360VR is a nascent content platform, there's plenty of data making its way to market that indicates ads featuring 360VR content are significantly more effective than traditional advertising. Reputable research arms like Nielsen Media, Greenlight Insights, Business Insider and more are releasing more & more evidence supporting effectiveness. Check out our recent case study from a national campaign run 4th quarter 2016 for some impressive results.
Myths of 360 VR Advertising: Part I
Because 360 VR Advertising is so new, it's not surprising that there are a few misconceptions about it floating around. That's why we compiled a list of different 360 VR Advertising Myths and debunked them. Make sure to come back next week for part 2!
360 VR Advertising Myth #1: It's too niche. There's no install base.
Debunked: This myth couldn't be any farther from the truth. 360 ads with virtual reality mode can be seen by anyone with a smartphone, tablet or desktop. This means the audience is >2 billion strong, is that still too niche for you?
360 VR Advertising Myth #2: Aren't 360VR ads those 360 videos I see on Facebook and YouTube?
Debunked: Most of the 360 videos you see on these social media platforms are just that – they're 360 videos being shared by brands with their fans. They're not ad units, per se, and are posted in hopes that they'll be seen. Further, neither Facebook nor YouTube can play 360 videos in browser on an iPhone – you can only view them in their respective apps. 360VR ads; however, can occupy the same space as digital display and native ads you see when you surf the web or use an app. And if you work with someone like Advrtas, have no worries because our ads work everywhere…even on a browser on the iPhone.
360 VR Advertising Myth #3: 360VR ads can only be viewed in a virtual reality headset.
Debunked: 360 ads with one-touch virtual reality mode can be viewed without a headset using the device you currently have; a smartphone, tablet, or desktop. Users can explore in 360 by moving their device up, down, left, right or by finger drag or mouse movement. If you have a VR headset like a Google Cardboard, simply press the icon, the screen splits in 2 and place your phone in the headset and you're instantly immersed.
360 VR Advertising Myth #4: It's too new, there's no proof.
Debunked: If you're waiting for the proof, the wait is over. 360VR ads are here today and the results are already in; they're much more engaging than traditional ads. Want some proof? Download our latest 360VR Ad Case Study for free and see for yourself. Or perhaps you'd like some social proof, for that just check out this infographic highlighting the dozens upon dozens of brands that have already started to leverage the power of the immersive platforms of 360 and VR. You better hurry and act though because the proverbial first mover advantage is quickly shrinking.
360 VR Advertising Myth #5: We don't have any clients or projects for this format.
Debunked: Any marketing department today should be considering using 360VR. Industries like travel, automotive, entertainment, consumer products, food & beverage, fast food & more are already embracing these highly engaging formats. 360VR ads offer an unrivaled storytelling experience for any brand hoping to connect with audiences. Take a look at just a handful of the industries highlighted below that are already tapping into 360 & VR for marketing and advertising. It won't be long before 360VR ads become so prevalent that instead of asking who's using them we'll be asking who isn't!
Industries using 360/VR for Marketing
360 VR Advertising Myth #6: I don't have 360VR content.
Debunked: While 360 video & images are very engaging forms of advertising, you don't have to have 360 degree or virtual reality content to make a 360VR ad. As long as you have 2D creative assets you can create a 360VR ad. To learn more, check out this 2D 360VR demo.
Cost: No Longer a Barrier for Using 360 VR Ads Everywhere
One of the biggest barriers that prevents companies from leveraging 360 VR ads is the belief that they are too expensive to make. That's likely due to the misconception that 360 VR ads are just video. Consequently, this breeds hesitation to test these immersive platforms as many have been led to believe that the content production costs for 360 VR ads mirror that of highly elaborate VR experiences like you'll find at Comic Con and other big shows. But as the The New York Times so smartly pointed out in a recent article, the costs differential between these types of executions and producing 360 video is significant. The more experiential VR productions which typically require more expensive hardware like the HTC Vive, Oculus Rift or Playstation VR, can run upwards of $500K, whereas 360 video (which can also be viewed in VR mode with more affordable devices like a Google Cardboard headset) is a much more affordable option that can range from $10K – $100K.
We propose that there's an even more affordable option for creating 360 ads with virtual reality mode. The truth is that 360 VR ads don't require you to have 360 video or even spherical 360 degree images. In fact, you can create engaging and interactive 360 ad units with 2D assets. Yes, you read that right – the same 2D assets that you use to create your standard banner ads today can be used to create a banner ad that features 360 degree and virtual reality content (aka 360 VR ads). To give you an example of what we're talking about and to provide you with an opportunity to see for yourself the difference between the traditional display ad and one that leverages 2D images into a 360 space, we've created the Redbox demo below.
Why Go Traditional When You Can Go 360 With 2D
Below is your basic rich media display ad promoting a handful of titles available at Redbox. Now while the color red and movie images may grab your attention, odds are that the brand will see your typical results for a standard rich media display ad.
Now take a look at a 360 version of this same ad below that was created entirely out of 2D assets. It's a bit more engaging don't you think? First, the perpetual movement of the ad pulls you in, the 360 placard lets you know this is something new and different, and the exponentially larger ad canvas inherent in this new ad format enables much, much more product to be showcased. You're free to explore the ad by moving your device left, right, up, down or by swiping your finger on your screen, you can enlarge it and even get more immersed by touching the cardboard icon in the lower right and going into VR mode.
In this example, when you touch a movie poster you're led directly to the Redbox site where you can read more about that specific title and go straight to rent. Alternatively, the user could be led to a trailer for the film – in traditional 2D or 360, as well as other videos and/or experiences and then a CTA could lead them directly to Redbox to rent. If the studio promoting a film has created virtual reality content to promote the film that content can be featured here as well. And remember, users are always just one touch away from being completely immersed in VR.
With all this interactivity, odds are the brand will experience much more success with the display ad that features 360 & VR content than the one that does not. In past studies, 360 VR ads using 2D assets, similar to our example here, have garnered engagement rates on mobile that exceed 85%! When you consider the high engagement levels of 360 VR ads that have been created simply by leveraging 2D assets that brands and advertisers have today, capitalizing on the benefits of 360 VR ads has become a more affordable option.
A win for brands, agencies & publishers
This "risk-free" approach to trying out 360 VR for advertising is a win for advertisers, agencies and publishers. For brands, they can now reach consumers with an entirely new and highly engaging form of advertising that has been shown to significantly increase brand recall, content recall, intent to purchase, brand affinity and so much more. The icing on the cake is if they don't want to or can't take the hit to their budgets to create 360 videos or images, they can leverage the creative they currently have instead. Agencies have something that's new, affordable and effective to pitch their clients. Publishers too can leverage the low cost benefit when selling this new premium ad unit to customers. With the combination of wins on all fronts, it's only a matter of time before more and more and brands go this route as they capitalize on the high engagement and brand immersion levels of 360 VR ads that can appear on any browser, device, app, or platform.
Soon you'll be able to create ads like this and more on your own when Advrtas launches their Ad Creator tool. Stay tuned for more information as we'll start accepting reservations for the Ad Creator very soon. Till then, might we suggest putting on your creative hat or sharing this article with your creative team so they can start brainstorming the many ways they'll be able to design engaging, immersive 360 VR ads using 2D assets, 360 videos and images, CG and more!
360 Ad Formats (with Virtual Reality mode)… HERE TODAY!
Recently, I was fortunate to travel to Toronto with our CEO, Robert Bruza, to participate and present at IAB Canada's Business of Digital Seminar Series. The topic for the event pertained to the marketing and advertising implications of 360 degree content, virtual reality, augmented reality and mixed reality. The task of presenters, such as ourselves, AOL, PwC, INDE, Entertainment One, Secret Location and others was to present the audience with key takeaways as to how these technologies can be leveraged to engage consumers with immersive experiences.
There was no shortage of optimism surrounding the platforms. From folks who had created content, whether for 360, VR or AR to those who had experienced elaborate VR installations created by those brands bold enough to experiment, it was apparent that most, if not all, recognized that these technologies will most certainly find themselves securely planted in the marketing and advertising strategy playbooks.
The stats that were served up by presenters certainly seemed to corroborate these sentiments. There was a bevy of interesting numbers provided by PwC's Jeremy Dalton, INDE's Nigel Newton and IAB Canada's very own Steve Rosenblum, supporting that these technologies are not only here to stay but that over the course of the next 3-5 years they'll all experience tremendous growth. Some of the figures presented include:
VR/AR projected to be $80 – $150 billion industry by 2020

110 million VR head mounted displays to ship in 2020

360 ads on mobile are generating 85% ad engagement
Only 12% of survey respondents have used VR as marketing communications tool (still room for that first mover advantage!)

>40% of marketers plan to experiment with VR and/or AR in the future
These numbers, and others presented, were both encouraging and perplexing. While it's certainly reassuring to see stats supporting industry growth, as someone who lives and breathes this stuff everyday, it was also frustrating to see that people don't realize that they can start leveraging 360 degree and virtual content for advertising at scale today! In fact, there's still a sizable group of marketers that still perceive VR as too niche. However, if you view VR as too niche you do so at your own peril.
Is an Audience >2Billion Too Niche?
What if I told you that the real reach for 360 degree ads with one-touch virtual reality mode is greater than 2 billion? Would you consider that acceptable reach? The truth is that just about any smartphone (Android and iOS) along with just about any modern tablet or desktop computer is capable of displaying 360 degree ad formats. Why? Because companies like the one I work for have figured out how to get 360 degree content with one-touch virtual reality mode into digital display and native ad units. The ad content can be 360 degree video, 360 degree or panoramic still images, CG imagery, 2D assets or an assortment of all of the above.
Brands Using 360° & Virtual Reality for Marketing: The Infographic
In case you missed it, one of America's largest family owned businesses and fast food chains, Chick-fil-a, recently launched a virtual reality themed commercial during the Grammy Awards. Riffing off their "Eat Mor Chikin" campaign, the eatery's new agency, McCann New York, is turning to 360 degree and Virtual Reality technology for their initial campaign with the iconic brand. The agency enlisted the talents of leading VR studio Framestore to create rather humorous experiences featuring what else but VR-headset donning bovines spreading the word about "VR".
They're a rather comical series of ads which are hoped to achieve one of the brands' key goals: "to engage with guests in new and interesting ways." Seems like they're 'mooing' up the right tree as brands leveraging 360 degree & VR are not only viewed more positively and forward leaning but also consumers feel more connected to brands that sponsor VR. Furthermore, ad units that feature this type of content are also proving to be not only highly engaging but also very effective when it comes to brand marketing on mobile.
It's worth noting that up till now, most of the 360 and VR experiences created by brands have either been more experiential in nature or simply 360 videos released on social media. On the experiential side we've had notable experiences like Marriott's Transporter back in 2014, HBO's Game of Thrones "Ascend the Wall" experience at Comic Con 2015, and Merrell's Trailscape at Sundance 2015 – to name just a few. On the social media side, we've had the likes of Liberty Mutual Insurance, GMC, Oreo, Clash of Clans, Star Wars and numerous others create 360 videos and post them to social media in hopes they'll be seen.
Now while experiential 360 & VR experiences can be very impactful and there have been dozens of 360 brand videos that have garnered tens of millions of views on social media outlets, for a marketer, these distribution channels for 360 & VR content lack one big detail – reach. However, with the advent of display ads that can feature 360 degree content with one-touch VR mode, we can expect to see more and more brands using 360 virtual reality and taking them to the next level – namely as rich media ad units that are viewable on-browser and in-app.
So as we brace for a digital future that goes from being sprinkled with 360 videos on social media to having a full on deluge of 360 ads – we thought we'd honor the brands that have boldly gone where none had gone before with the included infographic. Seeing as these brands were first movers when it came to trying out 360 & VR content for marketing, can we expect these brands to make the next logical step and use these highly engaging technologies for advertising? One can only hope!
Can 360 Degree Ads be the New "MVP" of Brand Advertising on Digital?: Takeaways from the Super Bowl Ad Blitz
This article was co-authored by Laura Barton.
And that's a wrap for another Super Bowl! For some (Tom Brady, Pats fans, Lady Gaga), the Super Bowl was a success; others (Falcon's QB Matt Ryan, any Atlanta fan, the guy who put a cool million on the Falcons to win in Vegas), it was a disappointment. What's interesting is that the Super Bowl being a success or a disappointment doesn't apply to just the game itself – it also applies to the ads that were shown. Because though millions watch the Super Bowl for the sport, there are a large number of people that watch the Super Bowl just for the ads. In fact, the younger you are (i.e millennials), the more likely you are to watch the game almost exclusively because of the commercials.
Watching the Super Bowl primarily to see the ads is a bit of a phenomenon when we live in a society where ad blindness is rampant and ads can be perceived as a nuisance. For most of the year, ads are something we skip as we see them as interruptions to content we actually want to consume. It's only during rare occasions, like the Super Bowl, where we actively seek ads out and are actually excited for them. As writer Derek Thompson points out in a recent article published in The Atlantic, with Super Bowl commercials, people not only pay attention to them, they actually discuss, analyze, and write articles about them (we're no different). He goes on to say that, "On most days, readers click out of ads to read articles online. For one day out of the year, they read a lot of articles only to click on the ads." But what is it about Super Bowl ads? Why is it one of the only times during the year that people actually seek out ads? The answer: Great brand storytelling.
LUST FOR GOOD STORYTELLING
Brand storytelling is huge as it is ultimately a form of entertainment and humans love be to entertained. Since the dawn of time, we have fed our lust for stories. Some psychologists argue this relates to the importance of imitation in our social and cognitive processes. As such, it is the "imitative process" of our minds that makes it easy for us to put ourselves in other's shoes and use our imaginations to enter stories. It's this ability that enables us to lose ourselves and connect with others – including brands, as we partake in the storytelling experience. Super Bowl advertisers figured this out years ago and it explains why as the quality of Super Bowl commercials has improved so has the expectation grown that the ads shown will quench this desire to be entertained.    
So while we may be prone to skipping ads, for one magical 'super' day we put this inclination aside in anticipation of ads that tell a good story and resonate with us on some level. An article published last year by Ad Week hit the nail on the head. Though skipping ads has arguably always been a thing ("Skip Ad" buttons, fast-forwarding, snack breaks during commercials), people don't do that for all ads. People actually love ads that take storytelling seriously and nowhere is this taken more seriously than when it comes to creating a Super Bowl worthy ad.
"The best and most celebrated ads have always been those that tell great stories because the best creatives know the key to winning over consumers is to share stories that are worthy of their time."
Scott Donaton
So as digital ad spend now eclipses that of TV, what lessons can be drawn from the success of Super Bowl ads and applied to the realm of digital advertising? And how does this relate to 360 degree ad formats?
We'd argue that perhaps we've been getting it wrong with how we approach digital advertising. For better or worse, digital advertising has been predominantly leveraged as a direct response tool. Shackled by the proverbial "click" mentality where success is measured by immediate actions taken, we have in large part abandoned brand advertising on digital. Perhaps that's because the ROI of brand advertising isn't something that's seen immediately – it's the process of building brand equity which can take weeks, months or even years to cultivate. But in a world where impressions and CTRs are the bars for success, how can a marketer justify leveraging digital for brand marketing? Furthermore, how they can measure the effectiveness of same? Enter 360 degree display ads.
BRAND MARKETING'S NEW DIGITAL "MVP"
With the advent of 360 degree ad technology a revolution in the digital ad landscape could be at hand. One where hit you over the head, intrusive, obnoxious "buy now, buy now" direct response ad messages are replaced with more entertaining, brand connecting – dare we say Super Bowl caliber, ads. No longer are advertisers relegated to the hard sell because they have within their grasps an entirely new tool for brand advertising.
Here are just a few reasons why the rookie on the ad scene – 360 degree ads, can score big in the game of brand marketing on digital – especially mobile. We predict that it won't be too long before brands from all industries recognize this new star player and start leveraging this highly engaging and effective new ad format.
360 degree ad formats provide advertisers with a much larger and entirely new ad canvas by which to tell their brand story. This canvas is bigger than any TV screen.

360 degree content provides levels of brand immersion never before possible.

The very nature of 360 content exploration means that you have a captive audience – not many ad mediums can say that.

360 degree ads come with an entirely new set of data collection points that not only track viewability but also provide enhanced & invaluable engagement metrics. These very metrics can arm brand marketers with much more than ROI justification, they can provide more insight into consumer behavior and preferences.

Studies have shown that 360 content has the ability to emotionally connect with an audience because it makes them feel like they are a part of whatever content they're consuming. (Add a

one-touch virtual reality mode

to this & this is enhanced exponentially.)

360 degree content delivers higher engagement rates, better brand recall, and better content recognition than traditional forms of advertising.

When it comes to brand equity, consumers have overwhelming positive views towards brands that leverage cutting edge technology like 360 and VR.

360 degree and virtual reality ads that can play on any mobile device, tablet or desktop are so new and so engaging that there's bound to be buzz around any brand that effectively uses them (It's that

first mover advantage thing

we keep harping about!)
So as the dust settles from yet another Super Bowl, marketers should rejoice in the fact that consumers actually do like advertising when it's done right. We should further celebrate that with game-changing technology like 360 degree advertising we have a new MVP in the digital ad space. It not only satiates consumer desires to be entertained but also supports brand marketing initiatives of strengthening the consumer-brand connection thereby building up brand equity.
If you enjoyed this, you might also like: Why your mobile ad spend should be in 360 degree content
Learn about the different ways and formats that you can leverage 360/VR ads through this free eBook.
Top 10 Reasons Your Mobile Ad Spend Should Be in 360 Degree Content
If you're in the digital ad space you've undoubtedly been hearing the numbers about digital ad growth – especially as it pertains to mobile – being thrown around by trade organizations and industry experts. According to these experts, the US digital ad industry is slated to surpass $100 billion in annual revenue by 2021. Much of this growth, unsurprisingly, is largely being driven by consumers devoting more of their time to connected devices. As such, more and more brands are shifting TV ad dollars over to digital but apparently not quickly enough. There is, as technology and internet prognosticator Mary Meeker calls it, a "mobile opportunity gap", which according to her is a $22 billion opportunity.
Mobile Opportunity Gap
Def: "the gap between the share of time consumers spend on mobile devices and
the share of ad dollars that is spent on mobile inventory." – Business Insider
But before you start taking your current TV spots and recycling them for digital, you'd be wise to take pause with the bigger opportunity that's at play. Simply repurposing TV ads for digital is not enough and it's also a big 'no-no'. You wouldn't take a print ad and throw it on a billboard would you? Nor would you take a TV spot and use the audio on radio. Your message needs to match the medium. As such, if you're going to sit at the creative drawing table and devise a digital campaign, why not consider using one of the most powerful tools ever to fall into a marketer or advertiser's hands that seems tailor made for mobile: 360 degree ads with a one-touch virtual reality mode.
With the costs of 360 degree cameras coming down and 360 & VR technology improving, it's becoming more and more affordable and realistic for creatives, publisher brand marketing units, agencies and brands alike to get their 360 video shooting chops whet. While they may find that filming for 360 comes with a completely new set of rules, it also comes with a completely new way by which to engage and entertain audiences. Which, of course, is what will ultimately have brands running to the 360/VR trough before too long – they are probably the most immersive and engaging content platforms the ad marketplace has seen. So, without any more ado, we give you the Top 10 Reasons Your Mobile Ad Spend Should Be In 360 Content:
Exceedingly high initial engagement – Call it the "wiggle factor" if you will, but there's something incredibly compelling about the realization that the simple movement of your mobile device can control an ad experience. Don't know what I'm talking about? Grab your smartphone and look at the 360 degree ad below… you can't help but be engaged.
2:First mover advantage – Marketing guru Gary Vaynerchuk has extolled on this for quite a while, when there are new trends in marketing it's the first mover who can reap the biggest reward. We couldn't agree more (check out the link above).
3:Sustained engagement – While ads featuring 360/VR are great at grabbing attention, perhaps their real strength lies in their inherent ability to sustain ad engagement beyond anything that we've ever seen. With 360 degree ads, you can create an endless rabbit-hole of interactivity that can feature 360 video, images, virtual reality content, and more! The limits are your creativity.
4:Positive brand association – Consumers are excited about 360 and Virtual Reality. The brands who leverage it are looked at positively by audiences of all ages.
5:It's where the eyeballs are less distracted – Video consumption on mobile continues to grow & what's even more important for marketers to recognize is that when they do consume video on mobile, odds are that consumers aren't as distracted as when they watch TV. 360 degree ads tap into consumers' mobile consumption behaviors & they can be viewed vertically (a la Snapchat) or in landscape mode.
6:Analytics, Trust & Viewability – With 360 & VR come an advanced set of data collection points that can provide consumer & ad insights never before possible. Not to mention that these analytics help with trust & viewability issues as well.
7:More Immersive brand storytelling experience – The only thing more immersive than 360 & VR is actually being there! With 360 & VR, brands have at their disposal one of the most immersive ad platforms that's ever existed.
8:Better brand recall – A Nielsen Media studio found that "people recalled brands in 360 video up to 28X more than brands in 30-sec mid-roll ads."
9:Better content recognition – On average, 360° content is 8X more effective for content recall than traditional ad units. (Nielsen Media)
10:Higher intent to purchase – Trusted industry audience pros Nielsen Media released a study indicating that "compared to traditional ads, 360 degree video content positively affected purchase intent for up to 3X as many consumers." (Nielsen Media)
So with all that going for it, what do you think is holding back the onslaught of 360 degree ads with VR mode on mobile (or even desktop for that matter)? We'd love to know your thoughts!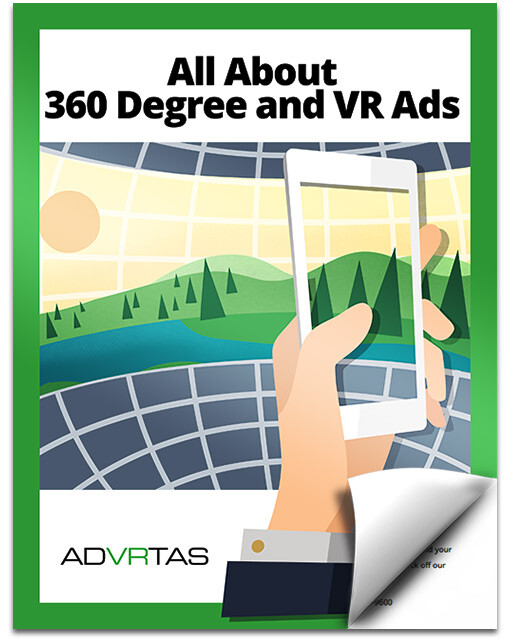 360/VR Advertising: A New Hope for a Broken Ad Ecosystem?
The ad industry is broken. Some, like News Corp Chief Executive Robert Thomson, might even say that it is "dysfunctional." Advertisers are losing confidence that their ads are viewed and clicked by real people, publishers are losing revenue, and consumers are getting fed up with seeing ads that are irrelevant to them. All these things point to a need for change and with the arrival of 360 degree and VR ad formats that can appear anywhere on the internet or in app, the question now is: Could this be the impetus that will turn the ad industry upside down while also fixing some of its wrongs? Before we can answer that question, let's look at some of the glaring problems facing digital advertising today.
The Brand's View
When advertisers hear industry experts report that more than half of all ads are not viewable or that nearly a third of programmatic ad impressions are fake, it's no wonder that trust in the advertiser-publisher relationship has been eroding. What do we mean by that? Let's say you're a brand who paid for 5 million impressions. One might think this would mean that a brand's ad was viewed by about 5 million people. Unfortunately, the reality is that the ad was more likely in view for half that amount of people as they explored a publisher's site. In other words, a brand paid for 5 million views, but really only got 2.5 million. No wonder advertisers are losing confidence! As a consumer, that's like paying for a pound of the butcher's finest cut of beef, but only getting 8 ounces. No consumer would tolerate such a thing, yet that's exactly what is happening in the digital ad space.
This "viewability" issue, however, is just the tip of the iceberg. There are other concerns as well such as ad fraud and inaccurate analytics (even by the likes of Facebook) – which justifies why brands are becoming increasingly skeptical of the existing ad ecosystem. Another concern is that programmatic buying is resulting in real ads being placed on fake or low quality websites that aren't aligned with an advertiser's position. This results in advertisers inadvertently bankrolling suspicious websites. Not to mention that brand equity, credibility, and image can be jeopardized as well.
"Brand appropriate context is #1. Hence, marketers must start paying attention to where their ads appear."
– Forbes, What Advertisers Must Do to Counter the "Fake News" Phenomenon
All these things are leading to a deteriorating connection between the brand and consumer. In response, consumers are getting sick and tired of online ads. This results in them either ignoring the ads completely or even worse, installing ad blocking software, unaware that they are hurting the very media companies producing the content they enjoy so much. (The Economist)
As a result, more and more big brands and advertisers are getting fed up and taking action. As an example, take companies like Kellogg's, AllState and Workable who recently pulled advertising from a certain political news site that was supporting "fake" news. Also add to the list MasterCard, whose Chief Marketing Officer, Raja Rajamannar, has gone on record saying he'd rather pay a bit more for ad placement, in exchange for knowing that their ads are on a verified site.
The Digital Publisher's View

Digital publishers have it bad as well and are most certainly feeling pain on all sides. From revenue erosion, dissatisfied advertisers and readers agitated with the current ad experience, they could possibly be the biggest losers in this whole equation. The current system, that is driven by a currency of impressions and clicks, has them stuck between a rock and a hard place. Why? It's because it's this very system that is fueling the growth of low quality sites, collectively driving down the price of ad inventory. This problem, compounded by the pressure given by stockholders, seems to encourage sellers to report inflated numbers. All these has resulted in publishers handing over their most precious assets, ad spaces, to "swarms of programmatic bots" while simultaneously devaluing their ad inventory.
Loss of revenue is a major problem for publishers as the increasing frustration of consumers has led to an increase in ad blocker installations. One recent study even indicates that 92% of consumers are considering using the software. This concern has left publishers pondering on whether they should go the subscription model route at the risk of alienating and losing readers. The rise of ad fraud has also resulted in more loss as publishers are forced to absorb the costs, while every day, hackers are getting increasingly sophisticated to the point that they have cracked the system and are stealing $5 million a day from the ad market. To add to all these costs is the fact that publishers are losing money to behemoths like Facebook and Google who are swallowing upwards of 65% of every digital ad dollar spent, all while giants like Verizon and Amazon are circling the space plotting their next move to take market share.
"The system, set-up to reward clicks and impressions, has fueled the growth of low quality sites well beyond those focused on made-up political news. Honestly, the long tail is to advertising what subprime was to mortgages. No one knows what's in it, but it helps people believe that there is a mysterious tonnage of impressions that are really low cost. But lo-cost impression would mean low-cost human attention. How can any publisher of quality content survive on low-cost impressions?"
– Joe Marchese, President of Ad Products for Fox Networks Group
In response to all this, publishers are taking action, some actually bypassing the programmatic route altogether. They're creating their own technology, beefing up sales teams to work directly with advertisers and building up internal creative staffs to work hand in hand with brands to deliver unique, premium experiences. Publishers who have taken some variation of these routes include the likes of Refinery29, Vox Media, BuzzFeed, Vice, ESPN, the New York Times and more.
Necessary Changes
With all that's amiss, it's no surprise that many are calling for major changes in the ad industry – saying it's critical to restore trust among all parties – sellers (publishers), buyers (advertisers / brands) and consumers. Some of the demands from all sides include:
Transacting on viewability which works for all parties – buyers, sellers, and vendors.

More transparency in reporting.

Development of a new ad currency that is driven more by ad engagement and interaction as opposed to false impressions.

More immersive brand storytelling opportunities that drive engagement.
Ultimately brands want to connect with audiences in deeper, more organic and meaningful ways. This bolsters the call for more engaging, interactive, higher-impact ads. Publishers and advertisers alike are on the hunt for big ideas that can drive ad engagement and help brands break through the clutter. In the end, the challenge to all is to evolve the user experience so that ads are less of an intrusion and more of a welcomed and trusted visitor to the content consumption landscape.
"In 2017, finding ways to use more entertaining and less intrusive media will become a higher priority to avoid alienating users." ~Venture Beat, Mobile Trends to Watch for in 2017

360 / VR: A Possible Impetus for Change
While there is no magic pill to cure all the ills of the current ad ecosystem, emerging technology like 360 degree and virtual reality ad units can help resolve some of these issues. For starters, they have the potential to change the currency from being impression based to engagement driven. That's because 360/VR ads come with an entirely new set of data collection points that are based on user interaction; thus, offering advanced analytics by which to measure engagement and ad effectiveness. This alone delivers better brand immersion and opens the door to new consumer insights that were never before possible. A new currency – perhaps one based on engagement – is likely to emerge from this enhanced data collection.
360/VR ads also represent a new premium ad unit that can be leveraged both by publishers and brands, as they can attract premium ad dollars, drive engagement, and strengthen the consumer-brand relationship. Here are a few more compelling reasons how 360 degree and Virtual Reality digital display and video ad formats have the potential to serve as the catalyst that drives change in a broken digital ad marketplace:
360/VR ads that leverage HTML5 technology can report on whether or not an ad was actually in view. This can help alleviate the trust issue as they offer a level of transparency.

Consumers overwhelmingly view brands that use 360 and VR content in a positive light which in turn ads value to the publishers & brands who leverage this technology today.

Native advertising and branded content initiatives, which are expected to see continued growth, can be significantly bolstered by 360/VR thereby increasing the value of native ad products.

360/VR ads by their sheer nature answer the need for more engaging, higher-impact ads

360/VR ads can be non-interruptive and respect the user experience.

Premium publishers focusing on premium experiences have a new tool to add to their sales kits.

360/VR present advertisers with a new way to break through the clutter.

Consumers are very interested in VR and 360 and the experience that comes with ads that leverage this technology can possibly thwart some ad blocking.

Studies on 360/VR ads and content are showing that this content format improves brand recall, content recall and intent to purchase.
In the end, it will be interesting to see how it all shakes out. When standing on the side of advertisers and publishers, it appears that 360 / VR ads that can appear anywhere across the internet or in app present the market with much more than powerful new tools to connect with audiences. It's possible that they also present the market with a new currency and can serve as a partial remedy to fix many of the ills that exist today. What are your thoughts?
Brands Earning Millions of Views with 360-Degree Content
For the past year, we've been publishing infographics showing the explosive growth of 360-degree content by featuring brands that leverage this new technology and the number of views they get with their content. As we near the end of 2016, we thought it appropriate to update these statistics with a brand new infographic.
Truly, the use of 360-degree content is growing rapidly and this will only continue in 2017! So what are you waiting for? Contact Advrtas and be one of the first brands to take advantage of this cutting edge technology!