360 Video: It's Everywhere!
360 content is continually and quickly being integrated to more of our everyday lives.
It's a fact.
And we see it in different ways.
We see it in the rise of demand for 360 content and the increase of user-generated 360 content, both bolstered by the sudden affordability of 360 cameras.
We see it in the way more and more companies are leveraging 360 VR advertising and 360 video… companies that include the likes of Disney, Chick-Fil-A, Mercedes, Coca-Cola, and the list goes on!
We even see it in the way major tech companies like Google and Twitter are beginning to find more and more ways to bring 360 content to the mainstream.
And they're succeeding.
A few weeks ago, Google announced during its I/O conference that their YouTube TV App will soon be able to support the streaming of 360 videos.
This opens the emerging technology of 360 content to people who own smart TVs, PS4s, and Xbox Ones.
On the heels of Google's announcement, Twitter pushed ahead into the 360 sphere with news that it is upgrading their Apple TV app to be able to support live 360 videos.
According to TechCrunch, it's the first app of its kind.
While 360 content can already be viewed by billions of consumers on smartphones, tablets, and desktops, moves like these help accelerate the growth and acceptance of 360 content by the masses.
Developments like these will continue to put 360 in the forefront of people's minds and further cement 360 content as something that's here to stay.
After all, the fact that 360 content is already available in the smartphone puts this within reach of millions of people all over the world.
And to make this technology available in the comforts of people's own living rooms really shows that one day, we will be consuming content in 360.
This makes sense when we see the progression of how we view content.
First, came the black & white tv.
When color TV came, we never looked back.
Why?
Because we see the world in color.
And in the same way, we see the world in 360, enabling us to look in any direction and also, giving us context to what's going on around us.
Does it then not make sense that 360 is here to stay?
Another benefit that will happen once 360 content becomes available in our own living rooms is that it makes 360 content more of a social experience.
Immersive technologies like 360 content and virtual reality are mainly seen as very individualistic due to the immersive factor.
But companies are beginning to develop new ways to make these new technologies something that would be easy to share with people and further connect us socially.
Finally, with 360 content available on more devices, it further encourages people to generate their own 360 content.
Not to mention that it will also show companies that this really is the time to invest in 360 VR advertising as people are beginning to be more familiar with this new way of consuming content.
This familiarity will further open the doorway to 360 VR advertising, eventually making it something that is natural and intuitive for people to use.
Therefore, now is not the time to wait for "further developments" as this will cause you to be left behind and lose your first mover advantage.
Timing is everything.
360 Ads Perform Better than Traditional Display (Part 2)
Last week, we talked about how people enjoy and prefer 360 content over traditional display. Like we said, no surprise there as 360 video advertising and 360 virtual reality ads are very interesting and engaging. For this week's post, we're showing you more stats (as we promised), but this time we shift our focus over to performance and effectiveness and highlight how 360VR ads and 360 video ads perform better than traditional display. What makes this data particularly noteworthy is that they show a stark difference between the two mediums.
So how do 360 video ads perform compared to traditional video ads? 360 video ads have garnered more clicks, more engagement, more views, and even higher content and brand recall. This is exciting because these numbers support the fact that people really do prefer 360 content and enjoy engaging with it. Also, these numbers continue to underscore that brands can no longer ignore the effectiveness of 360 video advertising and 360 VR ads.
When you consider what we've discussed the past few weeks, it's hard to imagine what else could be holding brands back from leveraging this new vehicle for advertising. We've already shown how cost is no longer a barrier for 360 VR ads as you can create 360 VR ads with ordinary 2D assets. We've also talked about the different 360 VR myths & misconceptions to alleviate the concerns that people have. Finally, we discussed how 360VR advertising is the bridge to virtual reality advertising.
So if you know that people prefer 360 content, that the reach is there, that it's not as cost prohibitive as you think AND that 360 video ads perform better than their traditional counterparts, what are you waiting for? It's time to leverage 360 VR advertising & 360 video ads today!
P.S. Don't forget to check out the infographic and other articles you might be interested in below.
Download Infographic Here
More Articles You Might Be Interested In
360 Ads Are Better! (Part 1)
As someone who works in the 360/VR space, it's very encouraging to hear the statistics about 360 video advertising and how people like 360 ads better than traditional display ads. But why wouldn't they? After all, 360 videos and images are such engaging and interesting mediums for people and brands to share their stories. 360 video is proving to be an effective storytelling tool because it gives you the full picture – the full context, of what's going on around a scene. Also, because 360 content responds to device movement, 360 ads easily catch a viewer's eye – almost as if they demand attention. And if your company knows how to leverage 360 video advertising properly, your 360 video ads will encourage people to want to experience your ad again and again.
As more empirical evidence supporting the effectiveness of 360VR ads and 360 video advertising comes to light, it's only a matter of time before more and more brands and marketers at large start leveraging the power of 360 and VR in digital display ads today. Especially when consumers have gone on to say that they like it when brands use 360 and virtual reality because they get to have a glimpse of how to use a product before actually buying it.
But don't just take our word for it, below are some stats on what people think about 360 video advertising and 360 video in general. And be sure to check back next week for part 2, as we'll be releasing more stats on how 360 VR advertising performs better than its traditional counterparts.
See an example of a 360 video ad with this Clash of Clans video inside an Advrtas ad unit.
Download Infographic Here
More Articles You Might Be Interested In
Top 10 Reasons Your Mobile Ad Spend Should Be in 360 Degree Content
If you're in the digital ad space you've undoubtedly been hearing the numbers about digital ad growth – especially as it pertains to mobile – being thrown around by trade organizations and industry experts. According to these experts, the US digital ad industry is slated to surpass $100 billion in annual revenue by 2021. Much of this growth, unsurprisingly, is largely being driven by consumers devoting more of their time to connected devices. As such, more and more brands are shifting TV ad dollars over to digital but apparently not quickly enough. There is, as technology and internet prognosticator Mary Meeker calls it, a "mobile opportunity gap", which according to her is a $22 billion opportunity.
Mobile Opportunity Gap
Def: "the gap between the share of time consumers spend on mobile devices and
the share of ad dollars that is spent on mobile inventory." – Business Insider
But before you start taking your current TV spots and recycling them for digital, you'd be wise to take pause with the bigger opportunity that's at play. Simply repurposing TV ads for digital is not enough and it's also a big 'no-no'. You wouldn't take a print ad and throw it on a billboard would you? Nor would you take a TV spot and use the audio on radio. Your message needs to match the medium. As such, if you're going to sit at the creative drawing table and devise a digital campaign, why not consider using one of the most powerful tools ever to fall into a marketer or advertiser's hands that seems tailor made for mobile: 360 degree ads with a one-touch virtual reality mode.
With the costs of 360 degree cameras coming down and 360 & VR technology improving, it's becoming more and more affordable and realistic for creatives, publisher brand marketing units, agencies and brands alike to get their 360 video shooting chops whet. While they may find that filming for 360 comes with a completely new set of rules, it also comes with a completely new way by which to engage and entertain audiences. Which, of course, is what will ultimately have brands running to the 360/VR trough before too long – they are probably the most immersive and engaging content platforms the ad marketplace has seen. So, without any more ado, we give you the Top 10 Reasons Your Mobile Ad Spend Should Be In 360 Content:
Exceedingly high initial engagement – Call it the "wiggle factor" if you will, but there's something incredibly compelling about the realization that the simple movement of your mobile device can control an ad experience. Don't know what I'm talking about? Grab your smartphone and look at the 360 degree ad below… you can't help but be engaged.
2:First mover advantage – Marketing guru Gary Vaynerchuk has extolled on this for quite a while, when there are new trends in marketing it's the first mover who can reap the biggest reward. We couldn't agree more (check out the link above).
3:Sustained engagement – While ads featuring 360/VR are great at grabbing attention, perhaps their real strength lies in their inherent ability to sustain ad engagement beyond anything that we've ever seen. With 360 degree ads, you can create an endless rabbit-hole of interactivity that can feature 360 video, images, virtual reality content, and more! The limits are your creativity.
4:Positive brand association – Consumers are excited about 360 and Virtual Reality. The brands who leverage it are looked at positively by audiences of all ages.
5:It's where the eyeballs are less distracted – Video consumption on mobile continues to grow & what's even more important for marketers to recognize is that when they do consume video on mobile, odds are that consumers aren't as distracted as when they watch TV. 360 degree ads tap into consumers' mobile consumption behaviors & they can be viewed vertically (a la Snapchat) or in landscape mode.
6:Analytics, Trust & Viewability – With 360 & VR come an advanced set of data collection points that can provide consumer & ad insights never before possible. Not to mention that these analytics help with trust & viewability issues as well.
7:More Immersive brand storytelling experience – The only thing more immersive than 360 & VR is actually being there! With 360 & VR, brands have at their disposal one of the most immersive ad platforms that's ever existed.
8:Better brand recall – A Nielsen Media studio found that "people recalled brands in 360 video up to 28X more than brands in 30-sec mid-roll ads."
9:Better content recognition – On average, 360° content is 8X more effective for content recall than traditional ad units. (Nielsen Media)
10:Higher intent to purchase – Trusted industry audience pros Nielsen Media released a study indicating that "compared to traditional ads, 360 degree video content positively affected purchase intent for up to 3X as many consumers." (Nielsen Media)
So with all that going for it, what do you think is holding back the onslaught of 360 degree ads with VR mode on mobile (or even desktop for that matter)? We'd love to know your thoughts!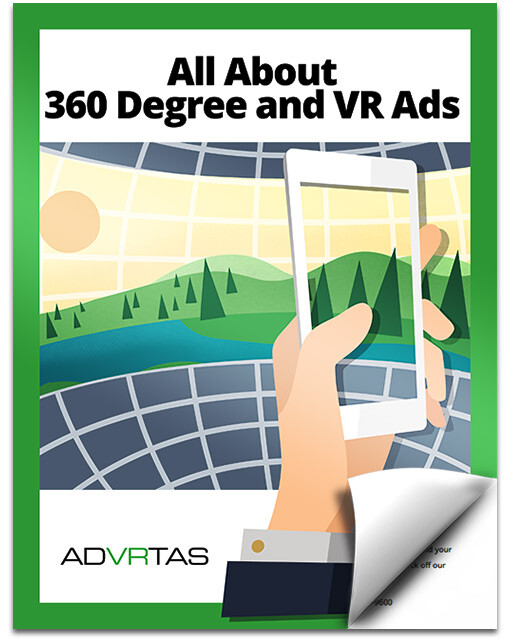 360 Video Beats Out 2D Video
The battle between traditional, what we call 2D video, and 360 degree video began in 2015 when YouTube and Facebook announced that they would support 360 videos on their respective platforms. Since then, a myriad of brands, from insurance and fashion to automotive and entertainment, have dipped their toes in the proverbial 360 waters and to some remarkable results – namely, with significantly more ad engagement.
While we wrapped up 2016 with a handy infographic highlighting some of the most popular 360 branded content, we've also pulled out some notable figures that should put any marketer on notice that 360 content and its not too distant relative, Virtual Reality, should most definitely be on the radar screen for 2017. Here's a snapshot:
Virgin Media saw a 360 video ad experience > 400% more shares than its 2D version
Virgin Media's 360 video ad had 45x more views than its 2D counterpart
Sony's "Don't Breath" 360 trailer was watched nearly 7x more than its 2D version
As one might suspect, the early results suggest that when it comes to ad engagement, 360 content blows 2D out of the water. Check out our handy infographic featuring some of the highlights & recapping 2016 below.
Brands Earning Millions of Views with 360-Degree Content
For the past year, we've been publishing infographics showing the explosive growth of 360-degree content by featuring brands that leverage this new technology and the number of views they get with their content. As we near the end of 2016, we thought it appropriate to update these statistics with a brand new infographic.
Truly, the use of 360-degree content is growing rapidly and this will only continue in 2017! So what are you waiting for? Contact Advrtas and be one of the first brands to take advantage of this cutting edge technology!
The Advrtas 360/VR Video Break Out Star for 2016
2016 has seen dozens of brands dipping their toes into the proverbial 360/VR waters. And while many have experienced millions of views, none quite match the success of not one, but two, Clash of Clans 360 degree videos. That's why Clash of Clans earns the Advrtas "360/VR Video Break Out Star" title for 2016 (the games also earn reportedly more than $1 million per day!).
Have you thought about how your company can leverage these highly engaging platforms in 2017? As the recent Ad Age article "No Fad: Virtual Reality Has Reached a Tipping Point" declares, 360 & VR are here. So the odds are these are high on your list of technologies to leverage in 2017. Advrtas is ready to help you take the 360/VR plunge today and can deliver 360/VR ad experiences to any smartphone, tablet or desktop…no headset required! The time to act is now. We look forward to hearing from you soon so you can strike while the iron is hot (and before your competition does).
Clash of Clans 360: Virtual Reality Raid
10 Must Watch 360/VR Videos for Halloween
Virtual reality is immersive and what better way to test that out than with these horrifying 360/VR videos that we've compiled for Halloween
So grab your VR headset and your headphones and get ready to scare yourself silly with these haunting videos! Don't have a headset? No worries! Use your mobile phone and watch in 360. Even better, watch them in the dark! Trust us, no matter how you watch, they're bound to send shivers up your spine!
Viewing tip for mobile: Just check out our Halloween Scares Playlist by clicking here.
Creepy Crown Challenge

Ouija 2 Trailer

The Exorcist 360 Experience

Slender Man

The Forest 360 Experience

Paranormal Activity Seance

Five Nights at Freddy's

The Conjuring 2

Stranger Things

The Room

360° Video Ads Work: 360° vs. Traditional Display
If we've said it once, we've said it hundreds of times: 360° content is really effective and this applies to images, videos, and of course ads!
If you've been following Advrtas and Outlyer Tech, you know we're all about the marketing and advertising applications of 360° (and Virtual Reality). We're strong proponents of the positive impact these technologies can have on the consumer brand relationship. One of the biggest reasons for this, which we've said repeatedly, is because of how much more engaging and compelling 360° and VR content is, especially when compared to the 2D content we've been consuming for decades. We've also touted how 360° is the future of advertising and of outstream video and launched the world's first 360° outstream solution this past spring. In a recent post, we even listed a few benefits and ways that people can leverage 360° content today. But all this was talk and speculation. Now there's data to back it up.
So now, we tell you even more emphatically: 360° advertising IS effective, especially when compared to traditional display, and it will change the digital ad world. But don't just take our word for it. Read the facts and check the numbers. We even put it in a colorful infographic for you:
Click to View Full Image/Download
What Do We Mean?: 360° Content and How it Provides Context
You've heard us say it before, the coming of 360° content provides us context that 2D content has never provided. In one of our previous posts, we even defined what context is for you. And just to jog your memory, context is (according to Dictionary.com), "the set of circumstances or facts that surround a particular event, situation, etc." In other words, context provides us the whole picture – no limits.
To further explain what that means, let me give you an example. Let's say you posted a picture of yourself in social media with the infamous red Solo cup, complete with the caption, "What a WILD party!" It just so happened that when you posted this, it was a work night. Your boss sees it on your profile and he doesn't like it because he thinks you're partying hard on a work night, which could have a negative impact on your work the next day.
But what if your boss totally missed the context? What if he didn't know that this party you were at was actually your niece's birthday party and that around you, there are actually kids holding similar red Solo cups all filled with juice? That
2D content lacks the context that we get from 360° content.
.
totally changes the story doesn't it? And that's exactly what I'm trying to point out! 2D content lacks the context that we get from 360° content. It gives us the whole story and literally, the complete picture of what's going on around us.
But then you might ask, what's the big deal? What's so important about 360° content and being able to get context? Sure, I get that it provides a bigger field of view, but how else can I benefit from it aside from avoiding misinterpretations? If you think about it, with the advent of 360° content, the way we consume and present information and data is changing. Journalists can significantly enhance how they cover the news and provide audiences with a more complete perspective and physical view of the stories they tell. This can foster stronger feelings of empathy and more importantly help drive change. Imagine what it could do for charities and their ability to fundraise.
Marketers and advertisers can use 360° content to give better context as to what their product really looks like and does. Just think about the industries of tourism and real estate. With 360° images and videos of hotels and guest rooms, travelers will no longer be disappointed when they open that hotel room door and realize that their room mirrors how it was represented in a 360° ad. Home buyers can "walk" through a property before even leaving home. A consumer goods brand can more completely and accurately display where, when and how their product is best experienced.
Manufacturers of large and heavy machinery can use 360° images and video to provide clients and prospects with a comprehensive view of their facilities and products that would otherwise be nearly impossible to grasp without a visit to the plant. Dozens of other product categories and thousands of brands can also leverage this new content format to forge stronger bonds with their target audience. In the end, what is perhaps most important is that with 360° the consumer is given control to engage and interact with content like never before. Thus, it has the potential to be a pivotal tool that translates into driving more conversions and ultimately revenues.
One thing is definitely certain, the new opportunities and benefits that 360° content will bring about are too many to count and it's exciting to be working in the thick of it and contributing to how the category develops. It's amazing to think of how 360° content can change the way we perceive and do things. It has the power to alter our perspective on certain matters when we are exposed to the complete context of what's going on. I suppose 360° content will now help us fully understand what it really means when we say, "Context is key." And now the red Solo cup holding employee can confidently say to her boss, "You took the red cup out of context, boss, and made an assumption, and we all know what happens to you and me when we assume!"
Why 360° Video Ads are the Future of Advertising
The world is a big, round place with lots to see and we've been looking at it through cropped lenses for far too long! Well that's the sentiment you might start to have after you've experienced even the slightest bit of 360-degree content that's steadily making its way onto the market. Truth is that since the early days of black & white TV in the mid-twentieth century to the proliferation of color

TV in the late 60s all the way to the advent of the smartphone in the 21st century, man's perspective of a video captured world has been limited.
For far too long we've been relegated to seeing exactly and only what the director and other content creators have wanted us to see. The thing is this goes against our physical and psychological make-up. We naturally have a field of view that is anywhere from about 180-200 degrees. Add to that our ability to turn around, look up and down, etc. and pretty soon you start to realize that for years we've been cheated.
"But our life happens like this."
"Because life happens in 360."
That's all about to change as 360° video assuredly makes its way to the mainstream. It's a snowball that's quickly turning into an avalanche as one by one, brands start to integrate 360° video into their marketing plans and the likes of Facebook and YouTube make it easier and easier for consumers to share their own 360 content. A quick glance at the views of this nascent content platform and you'll see a trend already beginning to emerge. From entertainment properties to insurance, to news outlets and even Brazilian singers (Ivete Sangalo's 360° video of her hit song has racked up more than 18 million views to date!), all kinds of product categories and personalities are accumulating millions of views as they experiment with what could perhaps be one of the most natural viewing experiences outside of everyday reality.
However, of all the 360° videos that are out there to date, a recent one produced by BBDO of Germany for Beck's Beer perhaps sums up best the restricted world in which we've been living before 360° videos hit the scene.
Experience Beck's video:
What Beck's video (sadly not shot in 360°) so effectively illustrates is that all our videos up till now have been lacking one very relevant component – context. What is context? According to one of my favorite apps, dictionary.com, it's "the set of circumstances or facts that surround a particular event, situation, etc." The simple fact of the matter is that 360° video enables us to have context with video content like never before. It also takes video consumption from a level of passivity to one of control and curiosity.
Savvy marketers and advertisers will be on the forefront of this trend as they recognize the pivotal nature of a 360° ad experience. They are cognizant of the impact context will have on consumers' attitudes and perceptions of a brand and embrace the ability to connect with their audiences on new, heightened planes. Perhaps they have also noticed what we've experienced at the office as we push the envelope with 360° ads, that once you start consuming content without boundaries you want every subsequent video you watch to offer the same freedom to look, explore and get context. So as digital video continues its explosive growth and the world begins to embrace this new platform known as 360 degree content, get ready for a whole new level of ad engagement where the consumer is empowered to connect with and explore brands in ways never before possible.
What are you thoughts on 360 degree content? Have you experienced enough 360 degree content to start to feel short-changed when you can't explore videos in 360? Do you think it gives you better context?
An Infographic: Digital Video Growth, Outstream Video & 360° Content
The numbers surrounding the growth of digital video are astounding. Truth be told the majority of us like watching videos, to the tune of billions daily, and the proliferation of smartphones over the past five years has significantly changed the digital video landscape. Seems we have a virtually insatiable appetite for everything video. On the heels of the digital newfronts and the latest International Advertising Bureau (IAB) study on the growth of digital video, we found it fitting to encapsulate what the future holds for digital video in the world of advertising.
In the past year as video ad inventory has grown scarce and ad blockers gained traction, a new breed of digital video has emerged. Called "outstream" video, it enables publishers to easily add video inventory outside of video content and place it natively in content such as between paragraphs of text. But as we all
"Outstream" video enables publishers to easily add video inventory outside of video content and place it natively in content such as between paragraphs of text.
know, things change quickly in the ad biz, last year's outstream solutions are now yesterday's news thanks to the emergence of 360° videos – the hottest new segment in digital video and a content format not supported by current outstream providers…until now. Advrtas is the first outstream solution that allows advertisers and publishers to now leverage the latest immersive 360° video with Virtual Reality mode, in addition to 2D video.
So as we launch the world's first 360° outstream video solution with VR mode we give you the numbers – those that pertain to the massive growth and effectiveness of digital video in general, outstream specifically, and the hearty appetite consumers have for 360°content.
If you want to learn more about Advrtas' groundbreaking 360° & Virtual Reality ad formats and outstream solutions that open up the internet for 360 & VR today, contact me via lbarton@outlyertech.com.
Click to View Full Image/Download